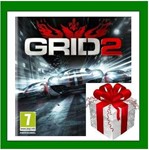 GRID 2 - Steam Gift RU-CIS-UA

Warning: game can be activated only in one of the following countries: Russian Federation, Armenia, Azerbaijan, Belarus, Georgia, Kyrgyzstan, Kazakhstan, Republic of Moldova, Tajikistan, Turkmenistan, Ukraine and Uzbekistan.
10.08.2018 11:59:15
всё отлично секономел 200 деревяных
20.11.2017 12:45:12
Спасибо! Как всегда всё отлично.
05.03.2017 17:41:35
Всё ок, спасибо!
14.11.2016 19:41:26
Все отлично, активировалось без проблем.
22.09.2016 22:14:00
все пришло, очень быстро, спасибо
01.09.2016 21:30:12
Все хорошо,жду подарок!
08.07.2016 0:07:14
Обслуживание на высшем уровне,( не пришлось долго ждать, честные продавцы, низкие цены на товар) в общем всем рекомендую - не подведут. ))) Жду подарка.
28.06.2016 21:47:23
всё отлично,хорошо и быстро
Спасибо жду подарок
17.04.2016 13:11:38
очень хорошая игра, доставили моментально, не жалко денег. Обещали еще подарок... жду!