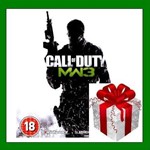 Call of Duty Modern Warfare 3 - Steam Key - RU-CIS-UA

Warning: The game has territorial restrictions and can be activated only in one of the following countries: Russian Federation, Armenia, Azerbaijan, Belarus, Georgia, Kyrgyzstan, Kazakhstan, Republic of Moldova, Tajikistan, Turkmenistan, Ukraine and Uzbekistan.



24.07.2019 15:44:53
Fsat delivery and works would recommend +++++!!!!!!
06.01.2019 12:45:18
Купил, игра пришла, все есть, печально только что не по вкусу пришла. Единственное, с чем были проблемы - сам ключ, он в файле jpg и не сразу правильно ввел.
08.09.2018 0:00:07
Ключ пришел мгновенно, спасибо!
Рекомендую продавца.
Жду подарок.
28.08.2018 13:09:43
Все пришло! Спасибо ( Жду подарок)
10.08.2018 18:44:58
Спасибо!! всё отлично!! рекомендую данного продавца!!! жду подарочек на стим))
29.07.2018 17:36:57
Спасибо, всё пришло быстро, всё работает! Жду обещанный подарок)
19.06.2018 17:02:25
Спасибо
16.05.2018 8:54:42
Спасибо все пришло!
06.04.2018 13:30:45
все отлично
18.03.2018 19:48:52
Товар получен, всё нормально! Спасибо!