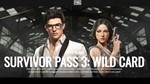 Steam addition to the game PUBG: Survivor Pass 3 Wild Card DLC (region of Russia)
After payment you will be redirected to the site where our robot will send you an invitation to friends, accept it and immediately receive this addition as a gift.
- Our robot can send the game if you have a "Russia" in the region of the steam shop.
- This product can not be placed in inventory, you can only activate the account.
- This content requires the base game PLAYERUNKNOWN´S BATTLEGROUNDS on Steam in order to play.
- Delivery is carried out in automatic mode.
attentionWhere can I get a link to the profile in steam?
1) Go to this link
http://steamcommunity.com/my/
2) Copy the link from the address bar
3) For example:
http://steamcommunity.com/id/username/
or
http://steamcommunity.com/profiles/00000000000000000
</ attention>
16.05.2019 21:02:06
dlс пришло спс Продавца рекомендую+++
06.04.2019 21:01:35
Получил билет в течении 2-х минут (вместе с покупкой). Рекомендую ++