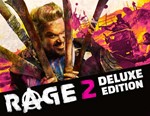 Steam Game Rage 2 - Deluxe Edition (region of Russia)
After payment you will be redirected to the site where our robot will send you a friend invitation, accept it and immediately receive the game as a gift.- Our robot can send the game if you have a "Russia" in the region of the steam shop.
- This product can not be placed in inventory, you can only activate the account.
- Delivery is carried out in automatic mode. </ Attention>Where can I get a link to the profile in steam?
1) Go to this link
http://steamcommunity.com/my/
2) Copy the link from the address bar
3) For example:
http://steamcommunity.com/id/username/
or
http://steamcommunity.com/profiles/00000000000000000/attention
20.04.2019 14:53:11
Great service, thank you for your support!
19.04.2019 16:13:30
Спасибо
14.04.2019 0:03:26
спасибо все пришло
12.04.2019 21:39:42
Все ок!
04.04.2019 22:09:23
Is ok!
03.04.2019 17:31:14
Купил - получил игру мгновенно. Рекомендую.
27.03.2019 12:10:10
Огромное спасибо. Очень быстро получил гифт игры в Steam! :D
26.03.2019 22:18:38
Получил ок, Благодарю)