Content: text (14 symbols)
Available: 7
Uploaded: 13.06.2019

Positive responses: 97
Negative responses: 0

Sold: 407
Refunds: 0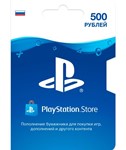 Payment card PlayStation Network 500 rubles Russia (RUS). A PSN payment card of 500 rubles allows you to replenish the balance of a virtual PlayStation Store wallet for 500 rubles.

Instant receiving code as text.

My contacts Telegram and email are on the page "Information about the seller and its products". For any questions you may contact me through these contacts or in a personal message here on the site.
13.06.2019 11:11:13
vce ok
09.06.2019 11:27:37
Отлично +++
07.06.2019 16:43:42
Все супер, получил
07.06.2019 15:22:25
vsjo ok
06.06.2019 7:55:12
Спасибо, работает!
05.06.2019 14:26:09
vce ok
31.05.2019 21:21:08
Очередной раз покупаю у этого продавца.Все быстро и без вопросов.
28.05.2019 15:56:11
Спасибо большое! Все подошло! В силу своей тупости, раза два ввел не ту букву!
Продавцу особая благодарность за оперативное решения вопроса!
22.05.2019 20:31:31
Отлично +++