Content: text (14 symbols)
Available: 7
Uploaded: 16.05.2019

Positive responses: 87
Negative responses: 0

Sold: 319
Refunds: 0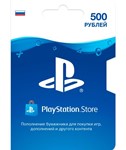 Payment card PlayStation Network 500 rubles Russia (RUS). A PSN payment card of 500 rubles allows you to replenish the balance of a virtual PlayStation Store wallet for 500 rubles.

Instant receiving code as text.

My contacts Telegram and email are on the page "Information about the seller and its products". For any questions you may contact me through these contacts or in a personal message here on the site.
18.05.2019 17:06:24
Все ок
17.05.2019 20:42:38
Спасибо. Код активировался.
16.05.2019 21:55:13
Для Белорусов. Платил мастер-карт МТБ банк
14.05.2019 16:24:25
Впервые вижу чтобы настолько быстро пришли коды, учитывая международный перевод и большие карты оплаты. Всем советую!
08.05.2019 18:12:48
Всё ок!!! Доволен.
06.05.2019 19:57:54
Код пришел тут же. Всё работает, все замечательно.
02.05.2019 12:18:01
Все хорошо!
30.04.2019 19:26:36
Спасибо большое