Content: text (170 symbols)
Available: 2
Uploaded: 02.07.2019

Positive responses: 1
Negative responses: 0

Sold: 22
Refunds: 0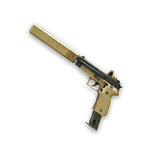 Warface is a free multiplayer online shooter developed by the world famous company Crytek.

Combat effectiveness
The Golden SIG Sauer P226 C is a unique semi-automatic pistol.

The gun has excellent performance. The weapon uses an enlarged magazine for 25 rounds. It has both a fast pace of shooting and soft recoil.

Equally well suited for all game modes and does not require special handling skills.

Two unique modules are installed on the pistol: an improved tactical silencer, which reduces the noise level, does not reduce damage and increases accuracy, and the Trijicon RMR Adjustable LED collimator sight, giving a 1.4-fold increase in aiming mode.

The gun has a luxurious golden appearance. The use of these weapons is prohibited in Warface tournaments.

Virtues
• Excellent damage.
• High range.
• Excellent rate of fire.
• High accuracy when shooting in aiming mode.
• Excellent accuracy when shooting from the hip.
• Large store capacity.
• 2 modification slots with a full range of trunk modules.
• Two unique modules are installed.
• Fast recharge.
• Does not require discovery from suppliers.

After the purchase you get:
SIG Sauer P226 C for 1 day

Delivery: Electronic PIN activation code in text form (XXXXX-XXXXX-XXXXX-XXXXX-XXXXX).
1. After payment, within 10 seconds you are automatically transferred to the page with the purchase, where you receive your goods.
2. Also after payment you will receive the goods you purchased by mail which you specify when purchasing.
Delivery time: Instant emailing.
Game: Warface
Activate until: 08/23/2019
Activation:
1. If you are not yet registered in the game, then go through the registration first.
2. Activate it on the game website:
https://wf.mail.ru/pin/activate
3. Enter the code in the code field and click "Activate".
ATTENTION!!! This code is intended for activation only on RU servers.
We recommend to activate within a month.
02.03.2019 22:10:07
Спс за сиг савер.)