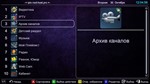 Playlists from "sweta1979".
These are themed playlists for the Russian-speaking population of Europe.
Playlists can only be opened in the "nStreamLmod_v.3.x" widget on Samsung SmartTV devices.
You can familiarize yourself with the content of playlists by activating a test in the "Cabinet".
Project site: "sweta1979.club".
We do not broadcast any channels and do not store any prohibited files on our server.
Our playlists are just handy lists of various sites and other open sources of the Internet adapted to your device.

Here you will find:
- Video Library, Youtube, Rutube, VK.
- A set of archives of live channels.
- Bonus TV. *
- Children´s section, Music, Radio, Humor, Webcams.
- Widget installation service. **
- Service for viewing paid providers that are common in Europe in your device. ***

* A set of IP-TV channels freely broadcast on the Internet and we do not bear any responsibility for their composition and quality.
** Works only on devices 2012-2014.
*** You must have paid your own account.

Access to the playlist for 6 months - 474 rubles.
Access to the playlist for 12 months - 948 rubles.

After accessing the playlists, you will activate the full version of the "nStreamLmod_v.3.x" widget for the duration of the playlist support.

After payment of access, please leave your feedback, it will help to evaluate and improve our service.
Connection time can take from several minutes to 12 hours.
Immediately after payment you will receive a form to fill in the registration data, in which you will need to fill in the following fields:
- Email address (email);
These data will be transferred to the seller to complete the transaction of sale of goods.
05.05.2019 14:42:59
Отлично
30.04.2019 17:59:43
Xорошо
31.03.2019 12:02:03
Очень просто и удобно!
27.03.2019 22:16:29
Очень удобный и прекрасный сервис оплаты .
Всё отлично большое спасибо!
15.03.2019 20:46:36
Как всегда всё супер!!!
12.03.2019 23:01:21
Все всегда на высоком уровне
05.03.2019 18:08:08
Etwas kompliziert ,bis ich alles eingerichtet habe .Mit Pay Pal wars einfacher.
Hoffe beim nachsten mal wirds besser laufen ,da schon alles eingerichtet.
18.02.2019 12:27:27
super
07.02.2019 18:14:17
Alles gut gelaufen. Danke!
23.01.2019 22:32:53
Prima, Danke!!