Content: text (181 symbols)
Available: 22
Uploaded: 22.06.2019

Positive responses: 2
Negative responses: 0

Sold: 34
Refunds: 0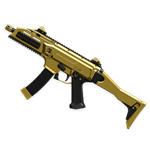 Warface is a free multiplayer online shooter developed by the world famous company Crytek.

Combat effectiveness
Due to the impressive damage this weapon will become a nightmare for your enemies. Even the most modern helmet will not save at close range!
The shop PP holds 35 pistol cartridges, standard ammunition is 175 rounds. The weapon has an average reload rate.
Three modular slots with a full range of equipment for the engineer are available for modification, so you can easily customize weapons for any style of play.

CZ Scorpion Evo3 A1 is considered to be a universal weapon that perfectly copes with any tasks assigned to it. Compact, powerful, pleasant to handle - all this perfectly characterizes the submachine gun.

Virtues
• High damage.
• Good accuracy of shooting from the hip.
• Good shooting accuracy in sight.
• Good range.
• Three modification slots with a wide range of equipment.
• Zombie damage is 50% more.

After the purchase you get:
✅ Golden CZ Scorpion Evo3 A1 for 1 day

Delivery: Electronic PIN activation code in text form (XXXXX-XXXXX-XXXXX-XXXXX-XXXXX).
1. After payment, within 10 seconds you are automatically transferred to the page with the purchase, where you receive your goods.
2. Also after payment you will receive the goods you purchased by mail which you specify when purchasing.
Delivery time: Instant emailing.
Game: Warface
✅ Activate until: 08/23/2019
Activation:
1. If you are not yet registered in the game, then go through the registration first.
2. Activate it on the game website:
https://wf.mail.ru/pin/activate
3. Enter the code in the code field and click "Activate".
We recommend to activate within a month.
04.11.2018 18:49:42
Все пришло после оплаты начинается таймер 10сек и потом вас перебрасывает на страничку с пин кодом ниже вы можете оставить отзыв.

30.10.2018 8:15:34
все круто!