Content: text (0 symbol)
Available: 0
Uploaded:

Positive responses: 1
Negative responses: 0

Sold: 4
Refunds: 0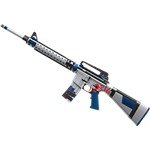 Warface is a free multiplayer online shooter developed by the world famous company Crytek.

Combat effectiveness
The M16A3 Custom is a legendary rifle, the choice of a professional attack aircraft. It differs from other guns, first of all, in damage of 82 units and ductile recoil.

The weapon has good characteristics. Excellent damage and range, and high accuracy will allow you to conduct comfortable shooting both at close range and at medium and high distances.


Virtues
• Excellent damage.
• Excellent firing range.
• A good rate of fire.
• Excellent accuracy in aiming mode.
• Excellent accuracy when shooting from the hip.
• 3 modification slots with a full range of modules.
• Good punching ability.

After the purchase you get:
M16A3 Custom "Cold" Forever

Delivery: Electronic PIN activation code in text form (XXXXX-XXXXX-XXXXX-XXXXX-XXXXX).
1. After payment, within 10 seconds you are automatically transferred to the page with the purchase, where you receive your goods.
2. Also after payment you will receive the goods you purchased by mail which you specify when purchasing.
Delivery time: Instant emailing.
Game: Warface
Activate until: 08/18/2019
Activation:
1. If you are not yet registered in the game, then go through the registration first.
2. Activate it on the game website:
https://wf.mail.ru/pin/activate
3. Enter the code in the code field and click "Activate".
We recommend to activate within a month.
31.10.2018 15:01:21
Мка пришла сразу