Content: text (0 symbol)
Available: 0
Uploaded:

Positive responses: 23
Negative responses: 0

Sold: 710
Refunds: 0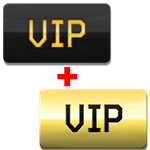 Warface is a free multiplayer online shooter developed by the world famous company Crytek.

Boosters
In the game you have several types of development accelerators available - VIP-status and additional accelerators. They make the game more comfortable and allow you to reduce the time required to obtain a new rank or weapon.

Super VIP accelerator - the most powerful in the game. It provides great rewards bonuses:
• Warbaxes + 165%. • Experience + 180%. • Suppliers + 130%. • Special operations resources + 20%.

VIP Accelerator
Players with VIP status receive significantly more rewards for matches.
• Warbaxes + 75%. • Experience + 100%. • Suppliers + 50%.

After the purchase you get:
1. Super VIP Accelerator (1 day)
2. VIP Accelerator (1 d.)

Delivery: Electronic PIN activation code in text form (XXXXX-XXXXX-XXXXX-XXXXX-XXXXX).
1. After payment, within 10 seconds you are automatically transferred to the page with the purchase, where you receive your goods.
2. Also after payment you will receive the goods you purchased by mail which you specify when purchasing.
Delivery time: Instant emailing.
Game: Warface
Activate until: 08/17/2019
Activation:
1. If you are not yet registered in the game, then go through the registration first.
2. Activate it on the game website:
https://wf.mail.ru/pin/activate
3. Enter the code in the code field and click "Activate".
ATTENTION!!! This code is intended for activation only on RU servers.
We recommend to activate within a month.
10.06.2019 17:47:01
Все хорошо, все работает
09.05.2019 23:26:20
Все пришло и работает)
09.05.2019 13:55:26
Все хорошо.... Вы просто офигенный продовец....
03.05.2019 17:27:20
всё пришло
16.04.2019 2:02:18
пин коды пришли спасибо !
20.03.2019 18:49:36
супер
18.03.2019 17:44:08
Получил пины, активировал, проблем не возникло
13.03.2019 11:34:32
супер

13.03.2019 11:33:44
супер