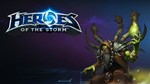 Sup, Buddy!

Heroes of the Storm - Hero Gul´dan

Platform: PC, Battle.net (NOT Steam, NOT Origin, NOT Uplay)
Region: Global
Type: CD Key(photo)

You receive your game immediately after purchasing it.

Abandoning the ways of shamanism, Gul´dan entered a pact with the demon lord Kil´jaeden and betrayed his people in exchange for limitless power. But it came at a great cost: Gul´dan must sacrifice part of his own life force to fuel his destructive fel magics. With the orcish Horde under his master´s thrall, both Draenor and Azeroth nearly fell into his grasp. Now, Gul´dan is set to spread his corruption across the Nexus!
Feel free to contact me whenever you need to.
See you, buddy :)
Please note all keys and gifts are unique items and are final sale.

================================
!!! ATTENTION PAYPAL PAYERS !!!
================================

There are a lot of carding attemts lately, so please be sure that you PayPal account status is confirmed/verified.
If your status is unconfirmed/not verified we will have to accept or decline your payment manually.
In this case we will kindly ask you to provide us with a copy of your id (passport, driver´s license, student´s id etc.).
We will understand if you would not want to provide us such document and decline your payment.
After we get a photo of id and accept your payment, the system will automatically send you your game.
Usually it takes a couple of minutes, but sometimes, which is not our fault, it may take up to 24 hours.
We apologize for such inconvenience and seek for your undestanding.

========================================
!!! PRESENT FOR A POSITIVE FEEDBACK !!!
========================================

Leave a positive feedback and I guarantee you a nice present. Steam key or gift
(or bundle) will be sent to the e-mail you provide during the purchase. You will
receive it during 48 hours after your purchase.
No feedback yet