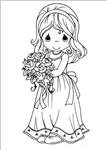 Coloring for children of preschool and early school age.
Coloring promotes attention, fine motor skills , color perception , artistic ability , accuracy and perseverance .
After payment you will receive a link to download an archive file in pdf format for coloring . Total 50 pages . Leave your comment and we will add to our collection. Thank you for your purchase!
In this profile, you can find all our goods .
No feedback yet