Content: text (0 symbol)
Available: 0
Uploaded:

Positive responses: 44
Negative responses: 0

Sold: 491
Refunds: 0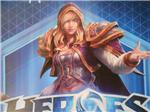 Jaina Proudmoore, the Archmage, is a ranged assassin hero from the Blizzard Entertainment Warcraft franchise.[1][2] She is a master spellcaster, trained by the legendary Archmage Antonidas himself. Brilliant, courageous, and wise, it was Jaina who led the survivors of the Scourge of Lordaeron to safety. But don't mistake her graciousness for weakness, or she will gladly demonstrate to you the folly of picking a fight with a sorceress.
.
29.08.2018 14:20:49
Героя получил!
28.08.2018 9:58:22
ХОРОШО
11.09.2017 15:01:15
Спасибо! Предмет в инвентаре.
10.09.2017 11:29:00
Спасибо, герой получен
04.09.2017 16:34:02
Все пришло
23.08.2017 12:17:40
работает
03.08.2017 19:38:27
все пришло, очень дешево и без обмана
03.07.2017 20:36:15
Спасибо все супер!
07.06.2017 22:06:38
Всё оплатилось и активировалось без проблем. Благодарю.