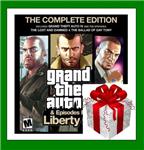 Grand Theft Auto 4 IV Complete - Steam Key - RU-CIS-UA

Warning: game can be activated only in one of the following countries: Russian Federation, Armenia, Azerbaijan, Belarus, Georgia, Kyrgyzstan, Kazakhstan, Republic of Moldova, Tajikistan, Turkmenistan, Ukraine and Uzbekistan.
31.05.2019 23:51:38
Super!
12.05.2019 23:00:11
Всё ОК, ключ пришёл моментально! хочу подарок
30.03.2019 7:43:04
Всё хорошо, ключ пришёл быстро, категорически рекомендую!!!
29.03.2019 16:56:17
Уже грузится!)
23.03.2019 10:37:55
Всё OK
23.01.2019 15:24:04
Все круто и быстро
03.11.2018 22:22:36
все отлично, спасибо)
хочу подарок)
28.10.2018 10:38:38
Все прекрасно! Спасибо большое! =)
15.04.2018 15:21:11
товар пришёл. всё хорошо же играю
13.09.2017 20:05:46
Все отлично, спасибо