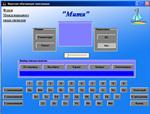 Computer program "international maritime signal flags" is used to quickly and confidently explore flags MCC. Flags of the MCC, as well as flags of CCM, apply to all ships, vessels, boats, sailing ships and even on boats all the navies in the world. With flags can be fed a variety of signals or designate their actions.

Author program Kozenko Nikolai.
Guide to the program stored in the archive.
No feedback yet